This marks the final part of my 3 part series on RAGE, Despair, and Hope. If there is an overarching take away within the series, it is that each emotion has its proper place.
Just as we need to remember Hope, we can not ignore the presence of Despair. Without an honest expression of Despair, Hope remains an empty platitude – vulnerable to collapse in moments of real darkness.
Writer and theologian, Frederick Buechner, articulates this tension between Hope and Despair as "Tragedy and Comedy" in his book Telling the Truth: The Gospel as Tragedy, Comedy, and Fairy Tale. Before Buechner gets to anything bright and hopeful, he uses page after page to make the tragedy of human experience undeniably clear.
The Gospel is bad news before it is good news.

Telling the Truth: The Gospel as Tragedy, Comedy, and Fairy Tale
Still, acknowledging the Despair does not diminish the importance of Hope. It is not "either-or". Hope and Despair exist in tension.
If nothing is done to dramatically reduce carbon emissions, we will find ourselves on a path to mutually assured destruction. EVEN IF we act now, climate change will still provide a massive toll on all aspects of human life – with a disproportionate effect on the poor and marginalized.
AND without minimizing any of that:
People everywhere are stepping up.
State and local governments in the US have stepped up to meet the challenge of Climate Change despite the ignorance of the Trump administration (C2ES, State Climate Policy Maps).
Specifically: 22 states and the District of Columbia have adopted specific greenhouse gas emission standards, 10 US states have implemented cap-and-trade carbon pricing policies, 29 states and the District of Columbia have renewable electricity portfolio standards, 15 states and the District of Columbia have higher appliance efficiency standards than federal requirements, California and Oregon have low-carbon fuel standards, and 27 states and the District of Columbia have either written plans for climate resilience or are considering it (C2ES, State Climate Policy Maps).
Bill Gates and Terra Power designed a clean and safe nuclear reactor fueled by depleted uranium, Iceland is operating a geothermal carbon capture plant, and Crop Trust is collecting wild-type relatives of common crops to breed climate-change-resistance into our food system (storing their seeds in Noah's-Ark styled bunkers like Svalbard Global Seed Vault).
---
Side Note: Svalbard Global Seed Vault actually looks like something out of a James Bond movie… You should at least give it a google, but Crop Trust provides a VR compatible tour if you have some quarantine time to kill, or you can check out this youtube video.
I mean… just look at this picture.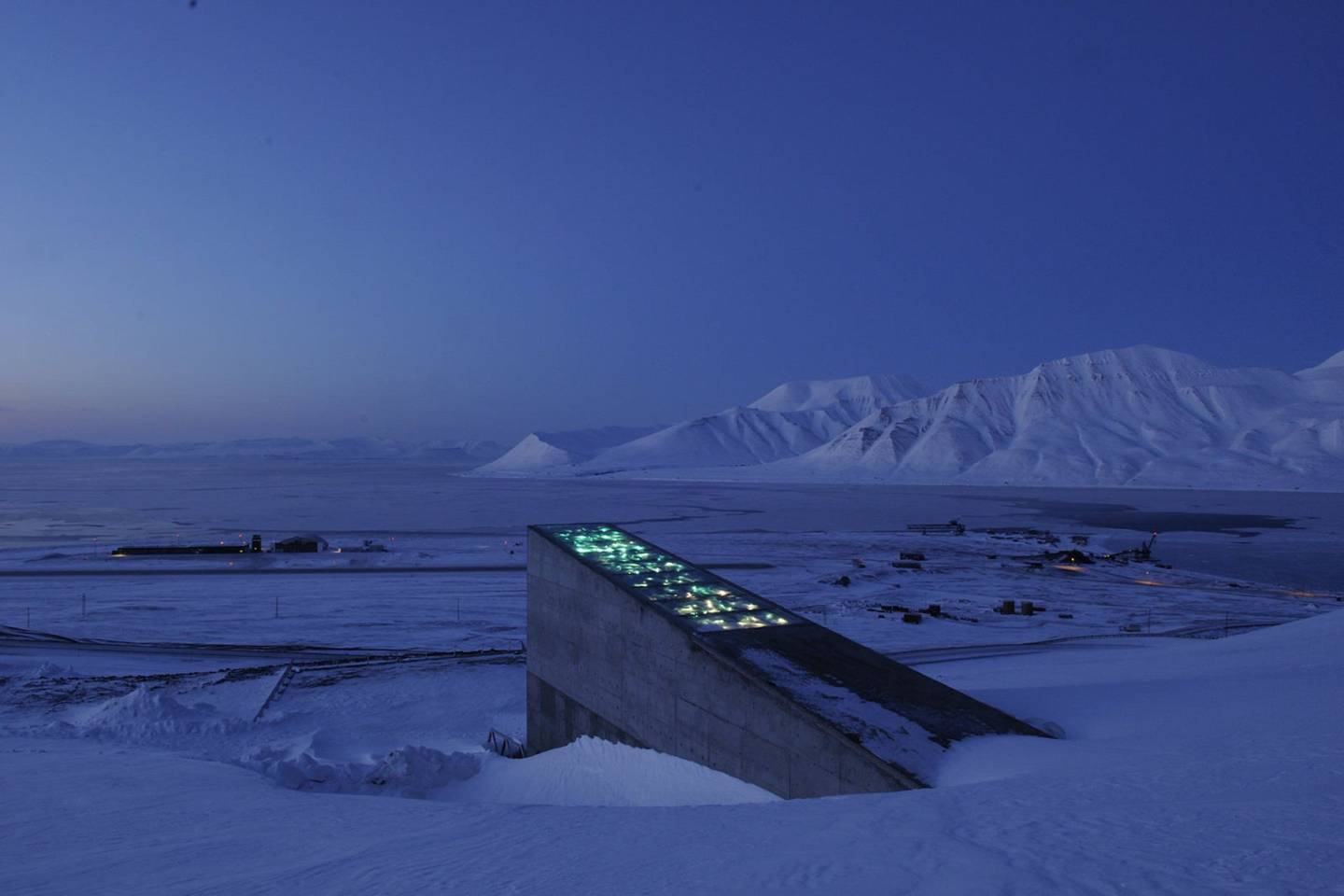 I digress.
---
There are BIG reasons for hope.
But despite it all, Despair and Cynicism are often overwhelming. We've all had long nights when the push to Cynicism outweighs the Hope we might have had.
It is the responsibility of artists to help us see Hope where Hope is due. Time and time again we turn to artists for imagination and vision beyond the tragedies of the present moment.
Nothing evokes the Hope we need like art.
Art can challenge our
imagination

.

The UN Twisted Gun Sculpture:
Or, the classic anthem Imagine by John Lennon:
You may say I'm a dreamer

But I'm not the only one
Art can speak to
resilience

.

Move on Up by Curtis Mayfield:
Just move on up

Towards your destination

Though you may find, from time to time, complication
This Little Light of Mine sung by Fannie Lou Hamer
In the jail house, I'm gonna let it shine
Childish Gambino's 6-minute sonic-experience Stand Tall
Keep all your dreams, keep standing tall

If you are strong you cannot fall

There is a voice inside us all

So smile when you can

When you can
Tupac's personal ode to single mothers, Keep Ya Head Up:
I give a holla to my sisters on welfare

2Pac cares, if don't nobody else care

And I know they like to beat you down a lot

When you come around the block, brothers clown a lot

But please don't cry, dry your eyes, never let up

Forgive, but don't forget, girl, keep ya head up
And – of course – Bastards by Kesha
Don't let the bastards get you down, oh no

Don't let the assholes wear you out
Art can evoke
movement

and narrative.

People Get Ready by The Impressions
People get ready, there's a train a-comin'

You don't need no baggage, you just get on board

All you need is faith to hear the diesels hummin'

Don't need no ticket, you just thank the Lord
Peace Train by Cat Stevens
Now, come and join the livin'.

It's not so far from you

And it's gettin' nearer

Soon it will all be true.
Times they are a Changin' by Bob Dylan
For the loser now

Will be later to win
A Change is Gonna Come covered by Aretha Franklin
There've been times that I thought… I thought that I wouldn't last for long,

But somehow, right now, I believe that I'm able, I'm able to carry on…

I tell you that it's been a long… and, oh, it's been an uphill journey all the way,

But I know, I know, I know, I know a change is gonna come…
We've even seen this moral narrative applied to Climate Change.
I've included a clip of Al Gore from An Inconvenient Sequel. The music swells and Gore delivers the end of a powerful speech to images of destruction, progress, and setbacks alike.
References to a moral-arc narrative like Al Gore's are powerful and they can be broadly applied to a wide variety of struggles.
As with any grand historical narrative, it has its drawbacks. It can be easy to interpret as strictly linear – ignoring backlash movements – but the simplicity of a moral-arc narrative gives it potency.
It casts an inspiring vision of an inevitable victory – but in a subtle way – these narratives also remind us that we stand on the shoulders of giants, and (although we may not see the day when our work is complete) others will continue to stand on our shoulders until all is as it should be.
---
I'll leave you with what may be the earliest recorded use of this moral-arc narrative. It comes from Abolitionist and Unitarian minister, Theodore Parker.
Look at the facts of the world. You see a continual and progressive triumph of the right. I do not pretend to understand the moral universe, the arc is a long one, my eye reaches but little ways. I cannot calculate the curve and complete the figure by the experience of sight; I can divine it by conscience. But from what I see I am sure it bends towards justice.

Things refuse to be mismanaged long.

"Ten Sermons of Religion" (1853)
---
(This post has since been combine with content from RAGE and Despair to form a larger story published on Medium).